Burdock Monograph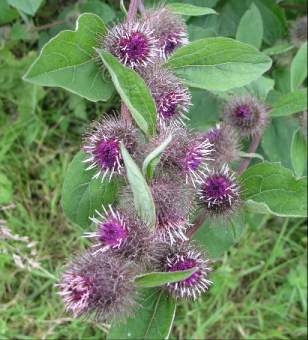 NAME
Burdock
LATIN NAME
Arctium
SYNONYMS (can include local names)
Sticky backs, beggar's buttons
FAMILY
Asteraceae
BOTANICAL INFORMATION (can include growing environment, plant identification and processing)
Biennial thistle known for its 'burrs' which grows on roadsides and waste areas. Standing approx 50-60cm in height this robust plant bears its flowers from July-Sept in egg-shaped heads (15-30mm across) on open spikes. These purple flowers do not have rays but are surrounded by 'burrs' which are in fact hooked bracts. The flowers, which bloom from July to September, are rayless and surrounded by hooked bracts which form the 'burrs'. The leaves are large with wavy margins and strongly marked veins.
PART/S USED
herb, root, seeds
ADMINISTRATION
USES
TRADITIONAL/LOCAL USES
Nicholas Culpeper, the renowned 17th century herbalist, wrote of Lesser Burdock: 'the seed being drunk in wine forty days together, doth wonderfully help the sciatica' and also 'the juice of the leaves, or rather the roots themselves, given to drink with old wine, doth wonderfully help the bitings of serpent'.
MODERN USES
gout, boils, anaemia, skin diseases
DOSAGE STRATEGIES (can include 1:1, 1:2, 1:3, 1:4, 1:5 etc)
low dosages over a longer period is favourable than higher dose over a short period
SAFETY
GENERAL
PAEDIATRIC
PREGNANCY
not suitable in pregnancy or lactation
ADVERSE REACTIONS
HERBAL COMBINATIONS
INTERACTIONS
HERB-DRUG INTERACTIONS
to be filled in
HERB-HERB INTERACTIONS
HERB-FOOD INTERACTIONS
EVIDENCE/RESEARCH
PRACTITIONER KNOWLEDGE (Please share your experience of this herb here)
Reliable blood tonic that i found an invaluable herb in the treatment of psoriasis, acne and eczema
THERAPEUTIC EFFICACY
CLINICAL TRIAL EVIDENCE
PHARMACOLOGICAL EVIDENCE
POSITIVE RESEARCH
NEGATIVE RESEARCH
ARTICLE LINKS (Please feel free to include relevant articles either authored by you or that you feel would be of interest to your peers in the WIKIHERB Community)
LINKS TO ARTICLES (Please place the URL link inside these brackets link here)
REFERENCES